28 July 2016: STEMpreneurs panel discussion hosted by Andrew Patterson, "Business as usual is no longer enough"
Business as usual is no longer enough -- panel discussion co-organised by the AUT Student Enterprise Team & STEM-TEC.
Making money and looking after your bottom line is not enough anymore as consumers are demanding more and our pressing social and environmental issues need addressing. The future of business means to unite people, planet and profit. Hear from experienced impact entrepreneurs on how they are changing the world.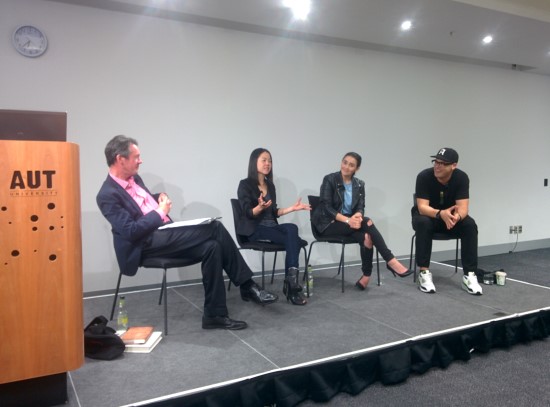 Andrew, Lisa, Adriana, and Robett in lively discussion about their social enterprises.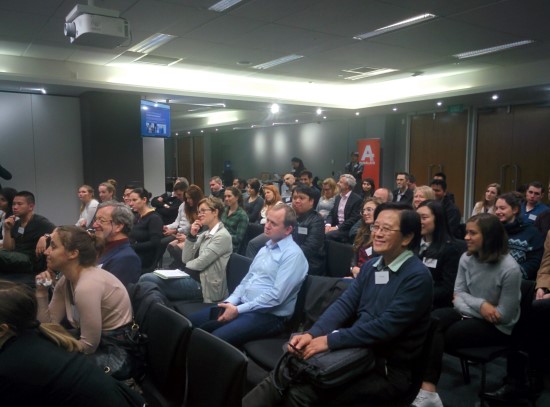 Hear from Lisa King (CEO, Eat my Lunch), Adriana Christie (Founder, The Palett Kingdom) and Robett Hollis (Aranui Ventures) discuss why "Business as usual is not enough anymore".Facilitated by Radiolive host Andrew Patterson and co-organised by the AUT STEMpreneurs club.
Join us for an interesting panel discussion and some 'speednetworking'.
Refreshments and nibbles will be provided.
Agenda:
5pm Networking activity
5.45pm Welcome
6pm Panel discussion and Q&A
7pm Informal networking
More about the speakers:
Lisa King
- After 15 years working in large FMCGs, marketing some of the country's biggest food brands, Lisa decided to put her corporate experience towards doing something that would make a positive impact in the community. As a mother of young children, Lisa couldn't fathom that in a country like New Zealand, 29% of children live in poverty and thousands go to school everyday without lunch.
With a mission to ensure no children go to school hungry and the belief that clever business solutions can solve big social issues, Eat My Lunch was launched in June 2015. For every lunch you Buy, Eat My lunch Gives a lunch to a Kiwi kid in need.
In just 7 months Eat My Lunch has made over 200,000 lunches, with 100,000 Given to kids in 30 low-decile schools in Auckland. Eat My Lunch has now expanded to Hamilton and will be launched in Wellington in mid-2016. Their efforts haven't gone unrecognised as they won the Excellence in Social Innovation at the 2015 New Zealand Innovator Awards, Communicating Sustainability Award at the NZI Sustainable Business Network, a Local Hero Medal at the 2016 New Zealand Local Hero of the Year, and nominated for New Zealand Herald's 2015 New Zealander of the Year.
Adriana Christie
- Inspired by her parent's orphanage in Colombia, Adriana always knew she wanted to be a social entrepreneur. While completing her AUT Bachelor of Business, Adriana developed a sustainable business consultancy, GWAMU. The consultancy was informed from lessons she'd learnt while importing hand-made art from South American artists who needed the funds to support their families. Adriana's current business, The Pallet Kingdom, continues her focus on social enterprise with its two core purposes – to recycle wooden pallets into furniture while working with disadvantaged teens.
Robett Hollis
- Passionate about media, tech and startups, Robett, a former professional snowboarder, is a Lifestyle Entrepreneur who loves the hustle, grind, and working on great ideas with great people. He runs Aranui Ventures which own several interests including FRONTSIDE, a Content Agency for clients like Skycity, NZ Breakers, Veuve Clicquot and Heineken. AIRTIME, NZ's Largest Action Sports Community complete with it's own app development arm, events and half hour TV show. He also created and built up ColabNZ, New Zealand's Largest Network of Creative Shared Workspaces with 10 floors in 7 buildings that empowers startups and small businesses to connect and grow.
Andrew Patterson
- A passionate business champion, with more than 20 years' experience working in business media both in NZ and Australia, Andrew is a popular broadcaster and a sought after commentator and speaker.
A regular presenter on the National Business Review's digital platform NBR Radio, and the host of its flagship weekend podcast Sunday Business, Andrew admits to being a self-confessed 'news junkie' and a close follower of global business trends, particularly technology, innovation and entrepreneurship.
In addition to his media commitments, he has worked pro-bono for the last four years with a number of low decile Auckland schools establishing programmes to improve student outcomes and provide pathways into technology careers including the establishment of Coding Clubs, providing mentoring to high performing students and, for the second time, leading a group of students on an all-expenses paid trip to Silicon Valley.
STEMpreneurs
encourages STEM students to become job makers by providing inspirational speakers and opportunities to build their networks.
When
Thursday, 28 July 2016 from 5:00 PM to 7:30 PM (NZST) - Add to Calendar
Where
Sir Paul Reeves Building, WA224 - AUT City Campus, 42 Wakefield Street, Auckland, 1010 - View Map