4 May 2016: STEMpreneurs Speaker Series Presents Professor Stephen Henry, CEO Kode Biotech
STEMpreneurs Guest Speaker Series Presents
Professor Stephen Henry
Biological Engineer, CEO Kode Biotech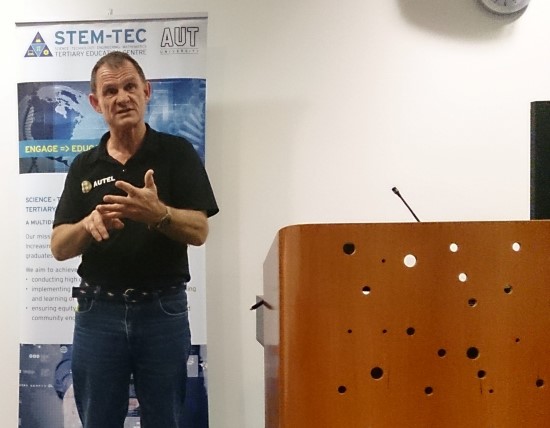 Steve Henry – AUT Professor of Biotech Innovation and CEO of the 2015 Supreme New Zealand Innovator Award winning company Kode Biotech.
In his talk Steve Henry discussed his company's platform Kode™ Technology and its journey to success.
Kode™ Technology is a multi-functional nanotechnology paint that can modify virtually any biological surface in 30 minutes and any non-biological surface in seconds. It is the easiest, fastest, most versatile and controllable method for temporary modification of any surface. It can advance R&D programs and enable next generation products.
Kode™ Technology is a proven proprietary platform with hundreds of variations, > 25 peer-reviewed journal articles, > 150 patents, several validated diagnostics products in the market, and now several therapeutic licensees with products in evaluation, including products for oncotherapy and drug-delivery. Because it is a platform technology Kode Biotech is constantly seeking new licensees in fields of therapeutics, diagnostics, consumer products and collaborators in research.
For further public domain information please refer to www.kodecyte.com or https://nz.linkedin.com/in/kodebiotech
Upcoming Speakers
June 1, 5:00pm, WG126: Andrew McPherson — Former Engineer and now CEO at Experieco, Founder of Industry Connect & NZ Big Data Meetup (RSVPs now open)
July 26, 5:30pm, WG126: Andrew Patterson — Presenter, NBR Radio at National Business Review
August 17, 5:30pm, WG126: Frances Valintine — Founder & Chairperson, The Mind Lab
STEMpreneurs
The STEMpreneurs Guest Speaker Series is organised and sponsored by AUT's STEM-TEC Centre.

STEMpreneurs brings influential STEM entrepreneurs and technology leaders to AUT to share their experience starting ventures as STEM graduates, helping students onto the path to becoming successful job creators.
Previous speakers:
Mark Mackay, Co-founder of Orcon Internet,
Josh Daniell, Head of Platform and Investor Growth at Snowball Effect
Dr. Jonathan Currie, AUT engineering graduate and Technical Director at Inverse Problem
Mark Thomas, Founder of Right Hemisphere
Alan Brannigan, AUT engineering graduate and Founder & CEO at Vigil Monitoring
Nick Pattison, STEM Science & Innovation Hub Director, Rongomai School
STEMpreneurs events are free thanks to generous support from the STEM-TEC Centre and the Faculty of Design & Creative Technologies.