8 September 2014: Girls on Campus Day at AUT's South Campus
GirlTech Day was held at AUT's South Campus on September 8, 2014. The event was dedicated to encouraging young women into STEM careers and was a big success.
The event was sponsored by the STEM-TEC Centre and the main organiser was Graham Bidois.
More than 40 Year 12 and 13 high school girls from South Auckland attended the all-day event aimed at illustrating the importance of women in contributing to STEM industries.
The event involved influential female speakers who work in the STEM industry, as well as key interactive workshops revolving around mathematics, science, computer science, and engineering.
Industry speakers included:
Victoria Cotton, Enterprise Account Manager, and Victoria Mahan, Category Manager, both from HP Printing and Personal Systems (PPS) Commercial Enterprise Sales Group.
Jenny Green, Crown Research Institute Plant & Food Research, whose role involves Research Support and Māori Engagement within science.
Amy Paisley, a Research Associate in the Sensory and Consumer Science department,
Emma Timewell, Communications Manager at Plant & Food, and also convener for the Association of Women in Science NZ.
YouTube video: https://www.youtube.com/watch?v=ZsAOVxijlfM
Article in The New Zealand Herald (PDF)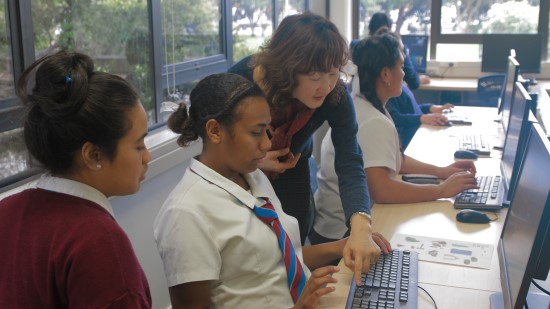 GirlTech Day at AUT's South Campus, September 8, 2014.