27 August 2015: STEMpreneurs Guest Speaker Series Presents Jonathan Currie, Technical Director of Inverse Problem Ltd
STEMpreneurs Guest Speaker Series Presents:
Jonathan Currie
Technical Director, Inverse Problem Ltd
This month we were excited to welcome Jonathan Currie, recent AUT Engineering graduate and Technical Director of Inverse Problem Ltd, a technology consultancy specialising in industrial optimisation, mathematical modelling, and simulation services.
Jonathan obtained his PhD in Industrial Optimization & Automatic Control from AUT University in 2014, and his Bachelor of Electrical & Electronic Engineering from AUT University in 2008, graduating top of his class. Since 2013, Jonathan has worked as a lecturer within the School of Engineering at AUT.
Prior to University Jonathan worked as a commercial electrician, as well as a fire alarm technician for Wormald where he designed and installed fire alarm interfaces for a number of NZ's correctional facilities. He has also represented NZ in an international trade skills competition in Mechatronics in 2005.
Jonathan shared the very interesting story of his involvement with the company, experiences seeking investment, and the highs and lows along the way.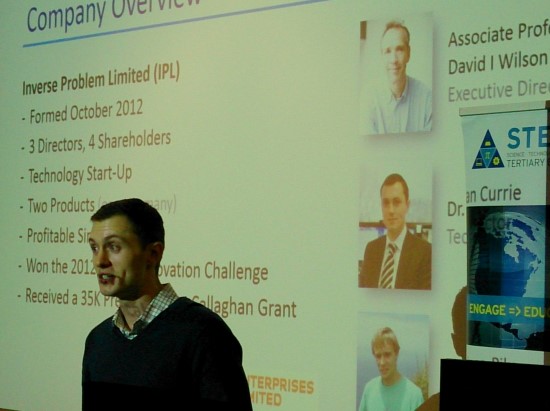 Jonathan introducing IPL and team.
A Few Words from a Student Entrepreneur
Alex Vaz is a business student on a mission to put technology to work changing the way people buy high-end clothing online, and shared some interesting insights, like challenges around juggling study with entrepreneurship.
AUT Kickstart Weekend
Stephen Thorpe introduced the AUT Kickstart Weekend, coming up in September. This will be a great opportunity for AUT students to sharpen their entrepreneurial skills.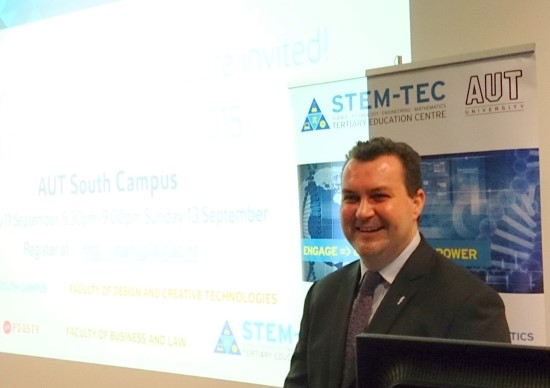 About STEMpreneurs
STEMpreneurs brings influential STEM entrepreneurs and technology leaders to AUT to share their experience starting ventures as STEM graduates, helping students onto the path to becoming successful job creators.
Previous speakers include Mark Mackay, Co-founder of Orcon Internet, and Josh Daniell, Head of Platform and Investor Growth at Snowball Effect.
The next guest speaker evening will host Mark Thomas on September 23.
There is no charge for staff or students to attend STEMpreneurs events, which are organised and sponsored by the STEM-TEC Centre.